The Thompson Lab welcomes people of any race, national origin, gender identity, sexual orientation, caregiver and family commitments, political affiliation, religion, and eligible age or ability.
Current Lab Members
---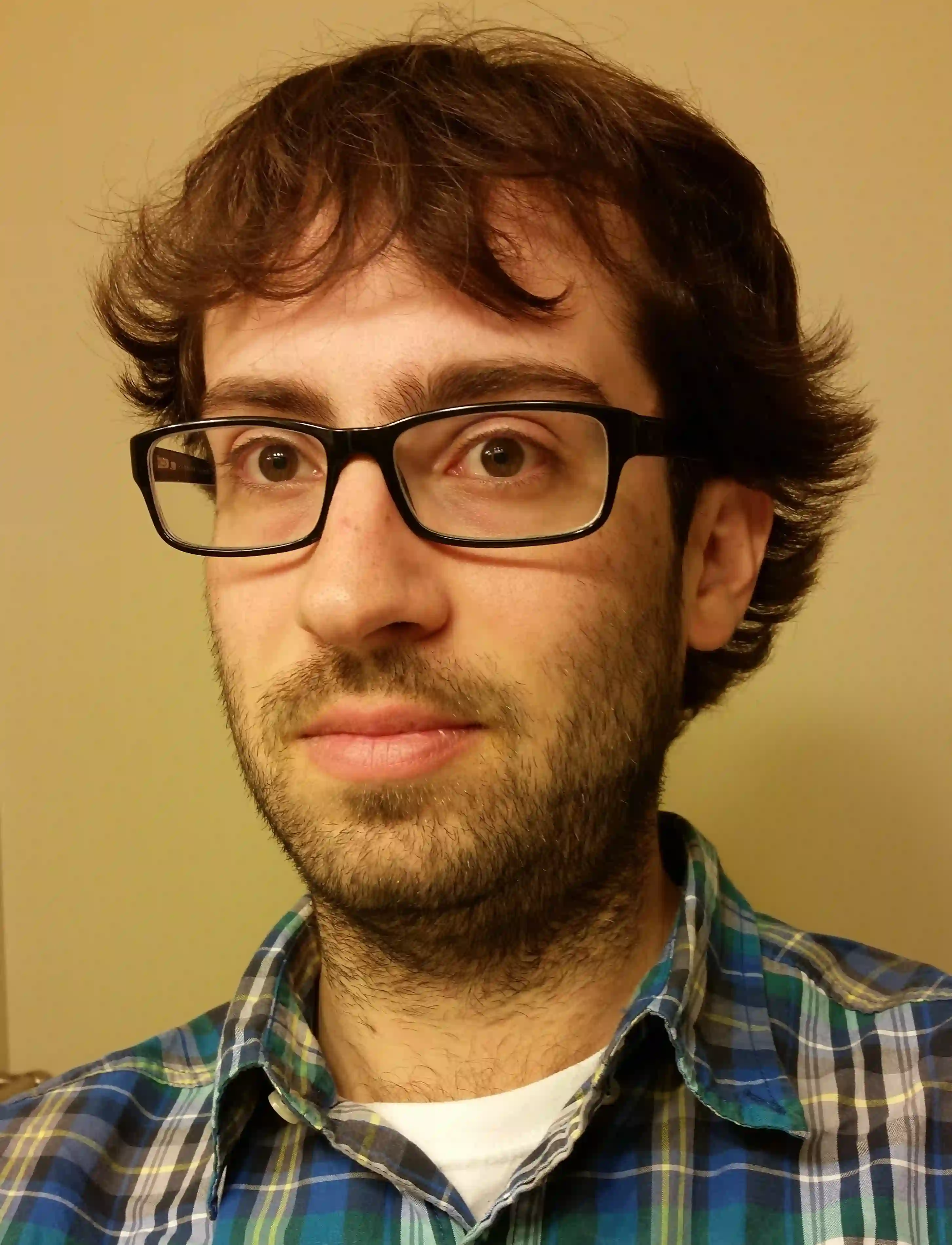 Michael Thompson
he/him/his
Principal Investigator
mthompson30 (at) ucmerced.edu

0000-0002-6099-2027

Scholar Citations

@MThompsonLab
Mike's longstanding research interest lies in understanding how proteins function by dynamically interconverting between different conformational states.

He was first introduced to structural biology and X-ray crystallography as an undergraduate at UC Berkeley, where he was a research assistant in Tom Alber's laboratory. In the Alber lab, he worked on efforts to determine the structures of signaling proteins that are required for virulence in Mycobacterium tuberculosis.

In 2014, he received his Ph.D. in Biochemistry and Molecular Biology from UCLA under the mentorship of Todd Yeates. As a graduate student, Mike investigated the role of conformational polymorphism in expanding the functional diversity of a key family of proteins that define a widespread class of prokaryotic organelles collectively known as "bacterial microcompartments." His work revealed the role of conformational polymorphism in defining specialized functions of microcompartment shell proteins, including ligand binding and allosteric regulation.

Mike joined James Fraser's lab at UCSF as a postdoc, where he helped develop new methods that combine temperature perturbations with static and time-resolved structural measurements to provide detailed insight into the conformational landscapes of biological macromolecules. These new methods, including multi-temperature and temperature-jump X-ray crystallography and solution scattering, are being applied by the Thompson lab and others to understand how protein function is modulated by genetic mutations, by interactions with other molecules, and by other physical stimuli. As a postdoctoral fellow, Mike was supported by a postdoctoral fellowship from the BioXFEL Science and Technology Center (NSF), a Kirschstein NRSA (F32) fellowship from NIH/NHLBI, and an Independent Postdoctoral Research Award from the UCSF Program in Breakthrough Biomedical Research (PBBR).

In 2020, Mike was appointed as Assistant Professor in the Department of Chemistry and Biochemistry at UC Merced. He is a member of the NSF CREST-CCBM Center and affiliate member of the NSF BioXFEL Science and Technology Center. He is also co-PI of a Bioscience Campaign at the Linac Coherent Light Source.
---
Alexander Deary
he/him/his
Graduate Rotation Student (Spring 2022)
adeary (at) ucmerced.edu
Alexander is a current graduate student in the department of Chemistry and Chemical Biology (CCB) at UC Merced. He received his Bachelors of Science in Biochemistry with a minor in philosophy from UC San Diego where he worked in the Paesani Research Group on many-body computational models for group 1 ion hydration. He also previously conducted research on G-protein Coupled Receptors at The Bridge Institute at USC, working under Raymond Stevens. While there he studied the allosteric effects of sodium and other cations on GPCR signal transduction. His current research interests are protein structural biochemistry as well as small molecule and biologic drug design.
---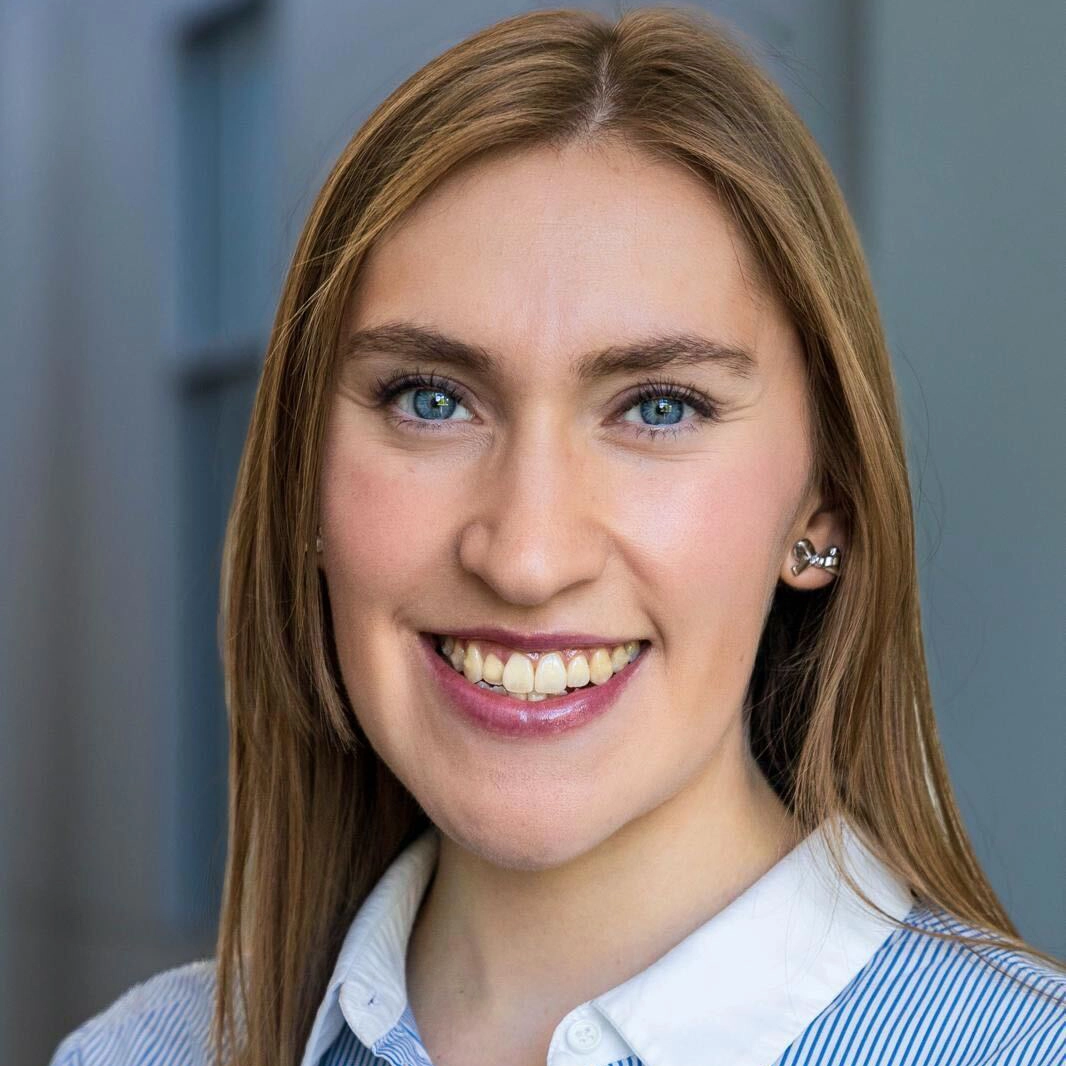 Luisa Garcia Michel
she/her/ella
Graduate Student
lgarciamichel (at) ucmerced.edu

0000-0002-8513-7350
Luisa earned her B.S. in Chemistry at the University of Mary in Bismarck, ND. She studied allosteric communication in ERK2 and its mutants using computational modeling and molecular simulations in Dr. Daniel A. Barr's lab.

During her undergrad, she discovered her passion for teaching and research. She pioneered the Learning Assistant (LA) program for Chemistry classes and was involved in a variety of language and science teaching opportunities.

In Fall 2021, Luisa joined the Thompson lab as UC Merced's Chemistry and Biochemistry Ph.D. student.
---
Vincent Hernandez
he/him/his
Undergraduate Student (UROC SOAR)
vhernandez65 (at) ucmerced.edu
Vincent is a current University of California, Merced undergraduate student pursuing a degree in Human Biology. He is interested in growing and learning in research and is joining the Thompson Lab to pursue these goals.
---
Dondis Moreland
she/her/hers
Undergraduate Student (BioXFEL REU)
dmoreland2 (at) ucmerced.edu
Dondis is a current undergraduate student at the University of California, Merced. She is currently a Chemical Science major and is interested in gaining knowledge and learning more about researching in a lab. This will be her first experience in a research laboratory and she is very excited to learn from her fellow colleagues and mentors.

After her undergraduate career, she plans to attend Dental School after her college career. When she is not working in a laboratory she loves doing community service with her church, working out, going outside for a hike or run, and planting flowers.
---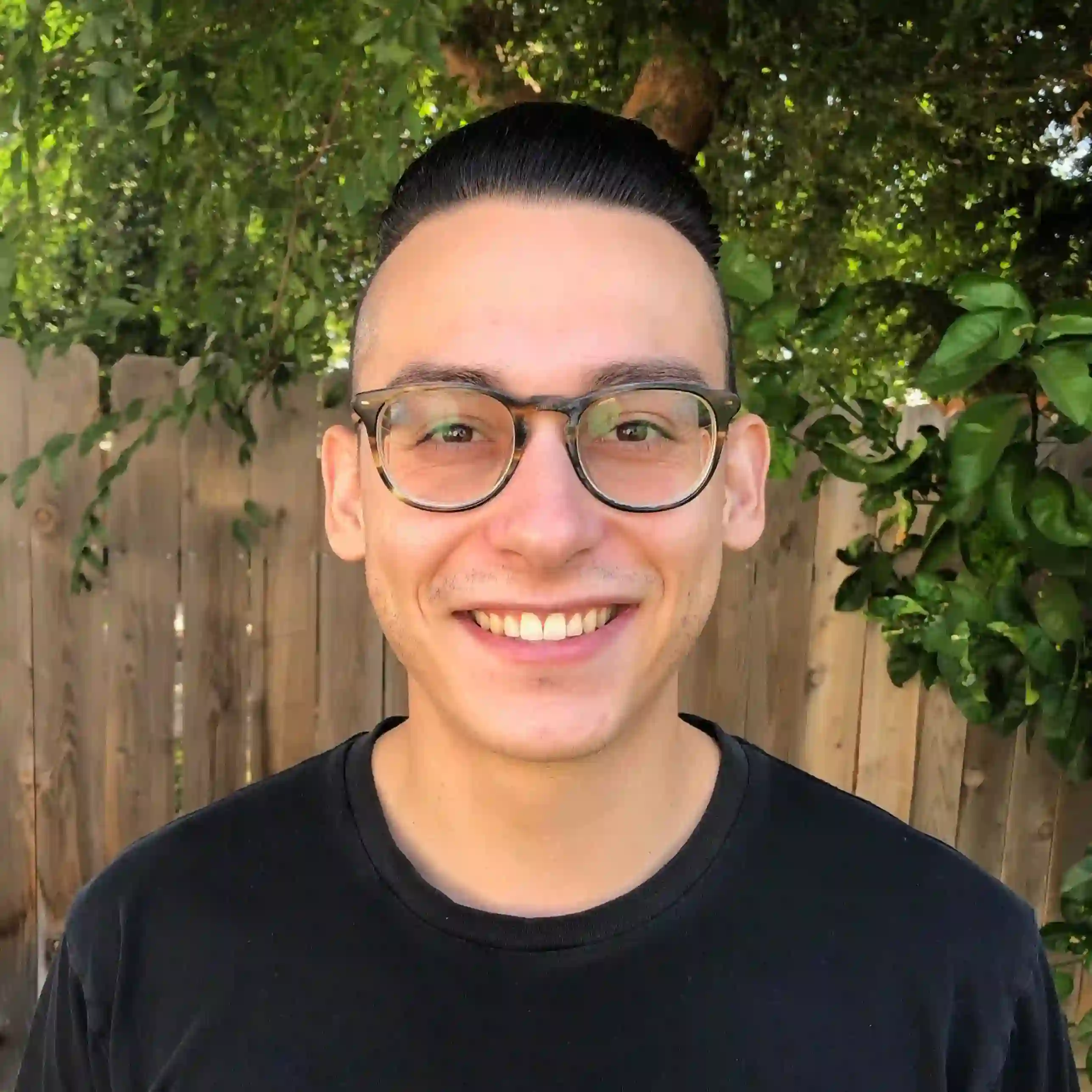 Josh Rodriguez
he/him/his
Graduate Student
jrodriguez465 (at) ucmerced.edu
Josh earned a B.S. in Biochemistry at CSU Fresno in 2019. There, he found an interest in structural biology and crystallography while performing research under Dr. Cory L. Brooks. Josh's research in the Brooks Lab focused on expressing and purifying novel antibody fragments that target cancerous forms of certain members of the mucin family of proteins.

In the Fall of 2020, Josh entered UC Merced's Chemistry and Biochemistry Ph.D. program and began research in the Thompson Lab. He is currently working to biochemically characterize and determine the crystal structure of human IRF-3 in complex with HIV Vpu, an effort that hopes to reveal potential for host-directed antiviral therapies.
---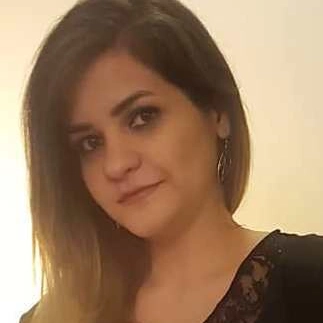 Behnoush Seifinoferest
she/her/hers
Graduate Student
bseifinoferest (at) ucmerced.edu
Behnoush developed interest in proteins at first in 2019 after obtaining a Master's degree in Organic Chemistry from the University of Tehran, Iran. She adores the world of Organic Chemistry, but preferred to continue education on an interplay of chemistry and biology. She got admitted in the PhD program of the University of California, Merced on Fall 2021 and started working with the Thompson lab right away. She is currently a graduate researcher in the Thompson lab. Her research focus right now is using protein crystallization methods and X-ray Crystallography for assessing the effect of conformational dynamics of the enzymes on their function. These data can be used for designing de novo enzymes specified for organic reactions of interest.
---
Andree Souder
she/her/hers
Undergraduate Student (BioXFEL REU)
asouder2 (at) ucmerced.edu
Andree's journey began very young when she was gifted a microscope after completing the fifth grade and spent that summer examining various leaves, insect parts, and fabrics under the microscope. Since then she has come far in her scientific career and studies Cellular and Molecular Biology but has found a growing excitement for Biochemistry. The Thompson Lab will be her first experience in a research laboratory (that is not her backyard).

When she is not studying for class or reading research papers, Andree spends her time hiking, painting, and playing with her dog.
---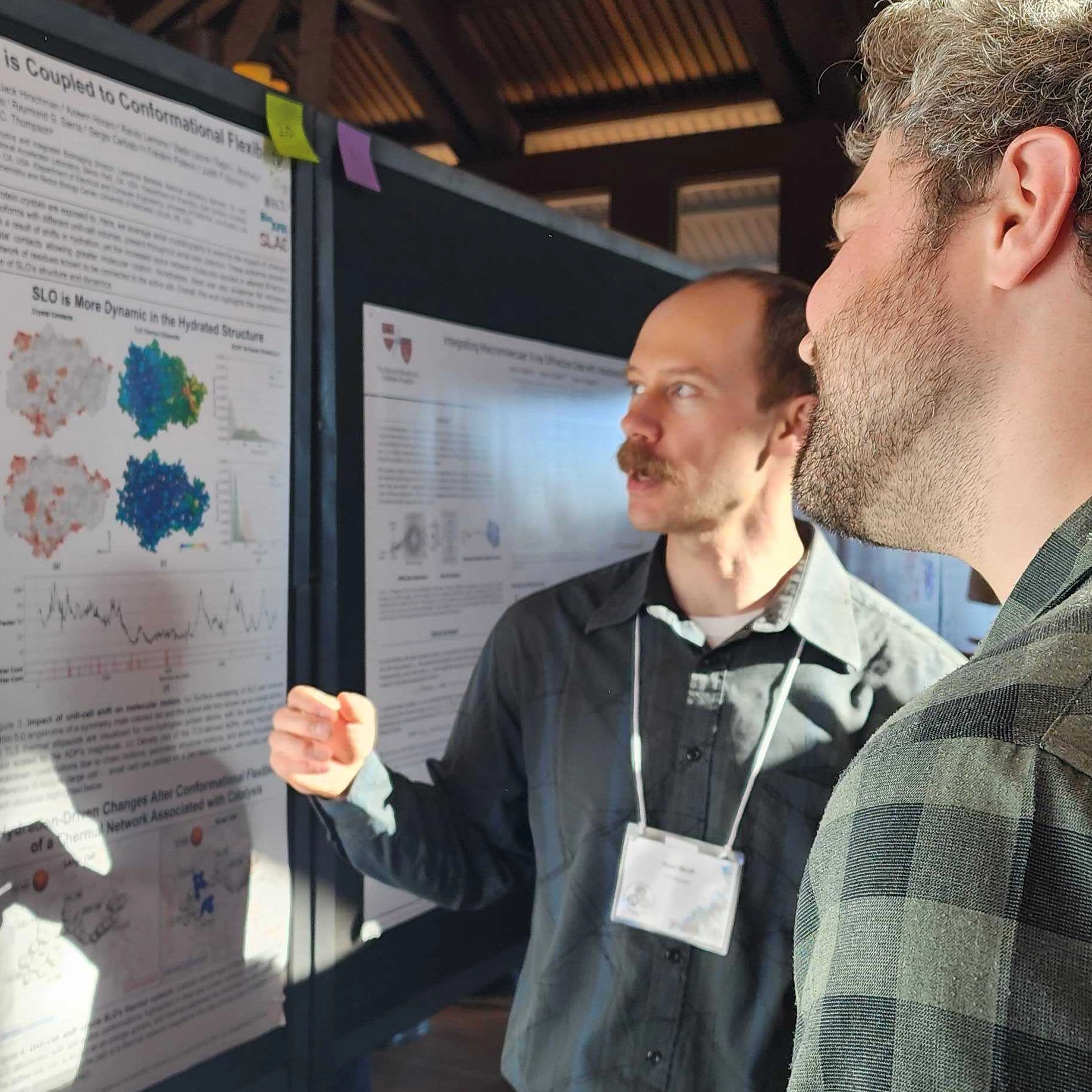 Alexander Wolff
he/him/his
Assistant Specialist
awolff2 (at) ucmerced.edu

0000-0003-0474-7673

Scholar Citations
Alex has broad scientific interests, but most of his work has focused on the use of X-ray methods to monitor protein dynamics. He earned a Ph.D. in the Fraser Lab at UCSF while working on this challenge. Specific focal points included the use of temperature jumps to perturb protein structures, monitoring perturbations during time-resolved X-ray experiments, and exploration of diffuse scattering as a source of information on protein structural dynamics.

In the Thompson Lab, Alex aims to expand on initial temperature-jump experiments with a focus on developing computational methods to support such work.
---
Otto Thompson, Do.G.
he/him/his
Moral support
Otto completed his interdisciplinary research training in 2005. His contributions to science since then have been numerous, including his development of innovative methods for detection of crumbs and other microscopic snacks from floor licking and sniffing data with very low signal-to-noise. He currently studies proteins (mainly chicken and beef, but sometimes lamb or salmon), and examines, at high resolution, the landscapes of orthopedic pet beds. His office hours are from 7AM-7:15AM daily - do not disturb during naps.
---
Past Lab Members
Ralph McAnelly - Assistant Research Specialist, Feb. 2021 - Jun. 2022
Destini Nguyen - Undergraduate Student (BioXFEL REU), May 2021 - May 2022, Now Med Student at American University of the Caribbean
Nathaniel Brown - Junior Research Specialist, Feb.-Aug. 2021, Now UC Merced QSB Graduate Student (Munoz Lab)